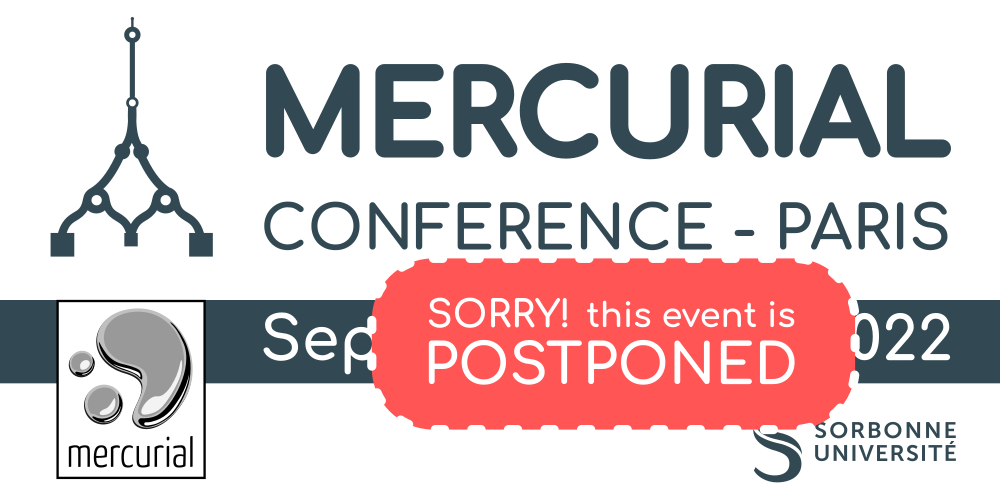 ---
Mercurial Paris conference 2022 - Announcing speakers and talks
Announcing speakers and talks for the Mercurial Paris 2022 edition.
The Mercurial Conference Paris 2022 should have take place from the Wednesday 21th of September to the Friday 23th of September. Due to scheduling conflicts involving several speakers and feedback from multiple community members, we are sorry to tell you we have to push back the Mercurial Paris Conference to early 2023.
We're pleased to inform that we've finalized picking our speakers for the event. Thanks to everyone who took the time to submit a talk, this conference would not be possible without you!
Please note that program changes can occur, to stay up to date please refer to the main event page.
Talks
September, Thursday 22th from 9:00am to 6:00pm
Mercurial at Scale
Mercurial usage at Nokia: scaling up to multi-gigabyte repositories with hundreds of developers for fun and games
We will give an overview of Mercurial usage at Nokia, showing the architecture of our Mercurial setup and some statistics of our use. Additionally, we will focus on what optimizations we did and specific Mercurial features we used to enhance scalability.
Specific topics that will be mentioned: (streaming) clonebundles, pullbundles, mercurial-server, mirroring.
Mercurial usage at Google
Hear about how we use Mercurial as a client for our internal non-Mercurial monorepo.
How Mercurial is used to develop Tryton
Tryton is a business application with about 200 modules which are developed as distinct packages. We will show how we integrated mercurial with our bugtracker, codereview and continuous integration systems with such amount of repositories. And finally why we choose to migrate to Heptapod.
Stability and innovation
Mercurial and Logilab
Mercurial has been the tool-of-choice picked by Logilab folks since a long time. Why this choice? How is it used at Logilab? What about Logilab upstream contributions? Nicolas Chauvat will present the Mercurial history at Logilab and answer all those questions.
Using Mercurial, evolve and hg-git in an academic context
I am a CNRS researcher working on instabilities and turbulence in fluids. In our group, we base a lot of our work on few Python packages. The development of these packages involves people with very different levels of experience in coding and in versioning. Depending on the software project, the development is hosted on different platforms: foss.heptapod.org, a university Gitlab instance and Github. For the projects hosted on Heptapod, we use a workflow based on Merge Requests (MR), topics and the evolve extension. This workflow presents great advantages for us:
Mercurial usage at XCG Consulting
Mercurial and its extensions, including the heavy use of evolve and confman. The move from bitbucket.org to the orus.io Heptapod instance and the changes in our CI tool from drone.io to GitLab's own CI. The better integration of topic/evolve that smoothed our workflow. Deployment and our contribution to Vendir, a tool that manages directory's contents, to add support for Mercurial.
XEmacs and Mercurial: fifteen years of good experiences
Toolings
Heptapod, three years of Mercurial in GitLab and growing
In this talk, we will describe the state and near future of Heptapod and its hosted offerings.
Lots happened since Heptapod was first presented three years ago at the Mercurial Paris conference. We have kept on bringing the power of GitLab to Mercurial users since then. Thanks to our partnership with Clever Cloud, we have launched a public hosting offering (https://about.heptapod.host) and its counterpart for Free and Open Source Software (https://foss.heptapod.net) has become the development platform of several important projects, among which now figures the Mercurial core project itself, one of the latest additions. We will survey the current capabilities of Heptapod and share perspectives for the upcoming year.
Lairucrem presentation
Lairucrem provides a useful user interface to the Mercurial DVCS. It is a text-based interactive interface that helps developers on their daily usage of Mercurial.
Development Update
Mercurial Performance / Rust
One of the stated goals of Mercurial has always been to provide a fast user experience, and aspects of that goal are out of reach for a command-line tool written in Python. We will go through the different ways and reasons we're using Rust in Mercurial and how it can improve the user/server experience.
State of changeset evolution
Mercurial has safe and strong history rewriting capabilities thanks to the changeset Evolution concept. It allows users an unprecedented level of collaboration on drafts through their DVCS. In this presentation, we will go over the core principles of this unique feature and give you an update on its implementation status in Mercurial.
Location
Irill, Sorbonne University, 4 place Jussieu, Paris, France