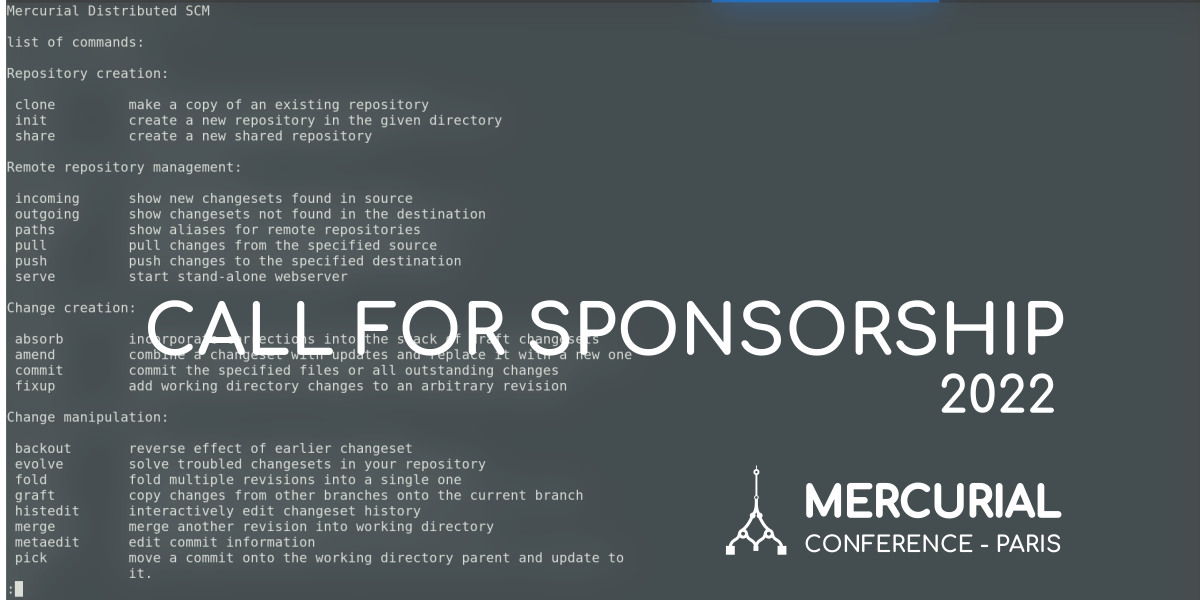 ---
Mercurial Paris conference 2022 - Call for sponsorship
Call for sponsorship for the Mercurial Paris 2022 edition are open!
Three years after its first edition, we are happy to finally announce Mercurial Paris Conference 2022.
Mercurial Paris Conference 2022 is a professional and technical conference around mercurial scm, a free, distributed source control management tool.
The event will take place from the Wednesday 21 of September 9:00 am to the Friday 23 of September 5:00 pm in Paris, Sorbonne University.
Call for sponsorship
We welcome sponsorship from companies, organizations, associations that wish to showcase products and services. Being our official event sponsor, your contribution will help to pay plane for non french speakers to attend.
Diamond
On stage : One kakemono with your branding and 5 min presentation of your products and services during the event
A quick presentation with your logo and link to your website on homepage, conference page (Diamond section), and one blog post about your sponsorship contribution
Your logo on screen at the end of each talk
Platinum
On stage : One kakemono with your branding
A quick presentation with your logo and link to your website on homepage, conference page (Platinum section), and one blog post about your sponsorship contribution
Your logo on screen at the end of each talk
Gold
A quick presentation with your logo and link to your website on homepage, conference page (Gold section)
Your logo on screen at the end of each talk
Silver
A quick presentation with your logo and link to your website on homepage, conference page (Silver section)
Bronze
A quick presentation with your logo and link to your website on homepage, conference page (Bronze section)
Organizer contact