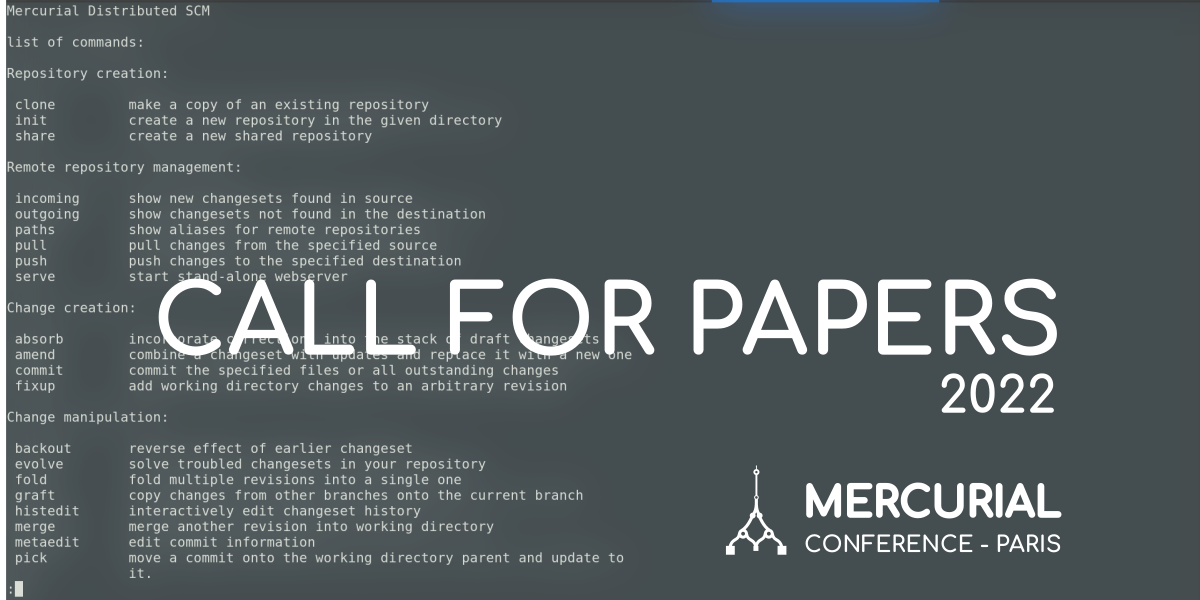 ---
Mercurial Paris conference 2022 - Call for papers
Call for papers for the Mercurial Paris 2022 edition are open!
Three years after its first edition, we are happy to finally announce Mercurial Paris Conference 2022. Mercurial Paris Conference 2022 is a professional and technical conference around mercurial scm, a free, distributed source control management tool.
The 2022 edition will be a three days event that take place from Wednesday 21 of September 9:00 am to Friday 23 of September 5:00 pm in Paris, Sorbonne University, France.
The first day, will be dedicated to workshops, the second to talks and the third to sprint and hack around Mercurial.
The event is open to everyone.
Now, it's time to solicit you as a speaker!
Topics of Interest
Workflow,
Hosting,
Toolings,
Scaling and Performance,
Others.
Submission guidelines
Send an email to the organization committee with the following, before the 17th of June, 2022.
For Talk (in english)
Talks are short presentation around Mercurial usage, feedback, technical features, related tools, community, etc...
Conference name with a short summary
Speaker name, company, contact
Duration (10/20 min)
For Workshop
2h presentation of a specifig topic with active participation of attendee on their laptop
Workshop name with a short summary
Speaker name, company, contact
Call for papers important date
Abstract submission deadline : June 17th, 2022
Paper submission deadline : June 17th, 2022
Author notification and program announcement : July 18th, 2022
Final presentation due : September 1st, 2022